Jessica Henrie
Landscape Architect in Training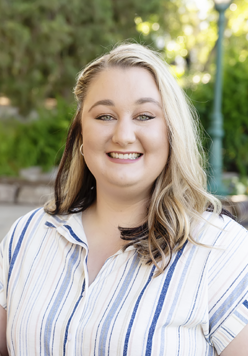 Jessica received her Bachelor of Landscape Architecture/Environmental Planning with a minor in Ornamental Horticulture from Utah State University (USU) in 2014.
Her technical skills include: Site Inventory, Analysis, Commercial and Recreational Design, Planting Design, Regional Planning, Construction Documents, Planning Theory, and knowledge of a variety of computer applications including: AutoCAD, Land F/X, SketchUp, Lumion, Adobe CS (Photoshop, Illustrator, InDesign), and ArcGIS.
After graduating from USU, Jessica started designing high end RV resorts all across the country with Bud Surles Consulting Group in Victor, ID. These resorts ranged from small 5 acre boutique RV resorts to 80+ acre resorts for multiple types of users. For each project she was involved in site planning, planting plans, building motifs, and overall site character. With her drawings, she worked with clients to graphically represent how an RV park could bring in revenue, while meeting all of the aspects of the industry. After a couple years working in Idaho, Jessica wanted to move closer to family and re-located back to Utah where she joined In-Site Design Group.
Jessica is currently a landscape designer at In-Site Design Group and focuses on production of construction drawings and 3D renderings to illustrate design intent. While working here she has collaborated with our design team to provide full construction documents for hotels, schools, and city parks. Jessica's experience in site master planning throughout the country and especially the state of Utah has helped her recognize how to carve out a design that is unique to each site and its notable features.