Eric Sabin
Landscape Designer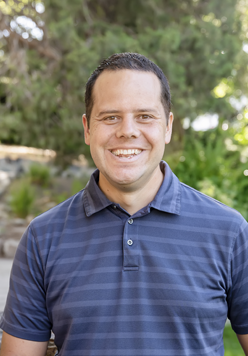 Eric has been in the landscape design industry for over 10 years. He received his bachelor's degree from Colorado State University in Environmental Horticulture with an emphasis in landscape design. He gained experience with a high end residential design-build landscape firm in Boulder, Colorado. He then went on to earn a Masters in Landscape Architecture from the University of Oklahoma.
Eric's position as a landscape designer allows him to utilize his experience in many areas of design. His horticultural background allows him to design with a large plant palette. He has a large knowledge of irrigation and how to design a well thought out system. Eric also focuses on photorealistic renderings and understands how to portray ideas to the client.
Eric's background in irrigation and design has allowed him to excel beyond expectations. He had the opportunity to be a student ambassador for the Irrigation Association and the National Association of Landscape Professionals. Eric also is a member of ASLA, and served as secretary of OU's ASLA student chapter. He created a guidebook for green stormwater infrastructure for Midwest City, Oklahoma as his master's thesis.
Eric loves challenging himself not only in the workplace, but continues that passion in extracurricular activities. He loves participating in triathlons and road races. He enjoys road biking, and is often out putting miles on his running shoes, or playing board games with his family and friends