Thomas McKenna
Project Manager/Landscape Architect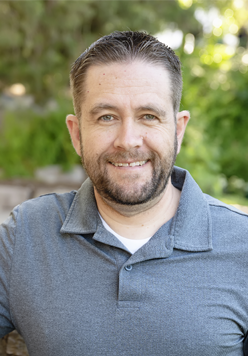 Thomas has been in the Landscape Architecture and Construction industry for the past 15 years. Thomas is a graduate from the Landscape Architecture and Environmental Planning Program at Utah State University (USU). While attending USU, Thomas worked for Anderson Lumber in the lawn and garden department where he learned irrigation design and provided designs for residential customers. He had an internship opportunity between his junior and senior years in Atlanta, Georgia where he was able to establish a strong CAD drafting foundation. Upon graduation from USU, he took a designer position at BRW in Phoenix, Arizona for a long, dry, hot summer and returned home to Cache Valley to pursue an MBA degree. After completing his graduate degree, Thomas began his career and has worked in the private and public sector for the past 15 years.
Thomas currently works for ISDG as a licensed Landscape Architect/Project Manager. Thomas is currently licensed in Utah. Thomas's current experience includes project management, master planning, custom residential design, multi-family design, recreation and park planning, commercial/light industrial design, resort design and government/institutional/civic design. He has a passion for irrigation design and efficient water-use. He works with a variety of clients including engineers, developers, architects, private owners and local/state government agencies.
Thomas enjoys utilizing his talents to provide clientele with outdoor spaces they can enjoy and thrive in.
Thomas loves exploring the outdoors whether it be on a mountain bike, ice fishing, fly fishing, hunting, hiking, camping or taking a leisurely, romantic stroll on a white sand beach. He also loves the cultural arts and enjoys attending the Hale Center Theater and Capitol Theater.